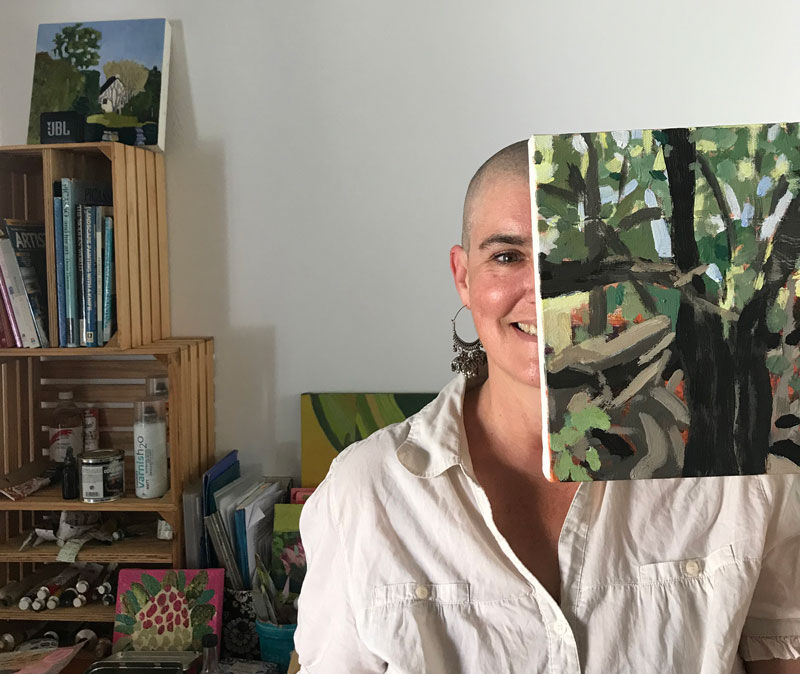 Hello! I am an artist who mostly paints and sketches.
I live and work in the breathtakingly beautiful village of Stanford in the Overberg region of South Africa.
My tools of choice are a 4B pencil and cartridge paper for sketching, and oil paint and hog bristle brushes for painting.
I love painting outdoors from life.
In my current series I am following the threads that connect me to this landscape, and weaving new ones to solidify the bond.
Favourite artists who have taught me things about art, in workshops and collaborations
Janet Botes is a passionate environmentalist, land artist and visual artist based on the Garden Route. I had the pleasure of spending a day with her in 2013 at her Ink and Watercolour Workshop in Cape Town.
Niël Jonker is a sculptor, painter and artisan breadmaker based in Baardscheerdersbos in the Overberg. I went to his plein air oil painting workshop at Stanford Hills in 2018 where I got my first taste of painting with oil and painting outdoors.
Catherine Brennon is an award winning ceramacist and painter, living and working in Hermanus. An 18-month long collaboration with Cathy in 2018 – 2020, painting together in my studio and on the Hermanus Cliff Path and beaches, and making ceramics in her Voëlklip studio on alternating weeks was the most enriching creative experience with a very special friend.
Gillian Hahn is an artist in the Hemel-en-Aarde Valley in the Overberg. I had a lot of loose and playful fun at her creativity workshop on the beautiful farm where her studio is situated.
Ed Bredenkamp is an exquisitely skilled wildlife painter. His Lembu Gallery in Hermanus is a local landmark. Ed kindly invited Catherine Brennon and me into his studio and taught us a thing or two about painting with oil paint, and let us try out his paints and mediums. It was wonderful!
Su Wolf is the most multi-faceted creatrix I have ever met. She paints, draws, stitches, collages and stamps in Stanford. Her collage workshops are wonderful. She has all the best ephemera.
Nikki Miles draws and paints beautiful things on real skulls in Baardscheerdersbos. Going to one of her figure drawing workshops was a reviving and energising tonic for my art.
2021: Lifestyle Gallery, Hermanus
2020: Journey, Stanford
2016: Jeanne Retief Studio, Stanford
2015: Outside In Gallery, Stanford
2014: The Millstone, Oude Molen Eco Village
2021: The Egret + Owl, Stanford
2021: Affie 100 Fonds Auction, Pretoria
2021: The Pencil Club, Umhlanga
2021: The Corrie Scribante Gallery, Umhlanga
2020: Stanford Kitchen, Stanford
2019: Spookhuis, Stanford
2019: Sumaridge Wine Estate, Hemel-en-Aarde
2019: FLAG Art Gallery, Hermanus
2019: Winter Salon @ The Art Gallery, Hermanus
2018: Moon + Bird Art House, Stanford
2017: Through The Looking Glass, Stanford
2015: Stanford Local Art Harvest
Journey
13 Queen Victoria Street
Stanford
The Pencil Club
1 Ncondo Pl, Umhlanga Ridge
Durban
The Corrie Scribante Gallery
Umhlanga